Belfast boy charged with mother murder bid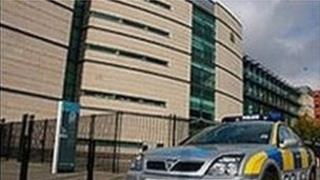 A Belfast teenager has gone on trial at the Crown Court accused of attempting to murder his mother last year.
The jury heard that the 15-year-old, who cannot be named, confessed to having stabbed his mother in the early hours of 17 June, 2012.
A Crown lawyer said the boy, who was then 14, had raised the alarm himself.
When police arrived he came out of the front door, telling officers: "I have just stabbed my mother".
After being cautioned that he did not have to say anything, he added: "I just lost it".
The prosecution lawyer said the teenager told officers that the knife he had used had broken and that it was in the front bedroom.
Meanwhile his mother had managed to make her way to a neighbour's home from where she was taken to hospital.
She had two lacerations, one of which was a stab wound to the back of her shoulder and one that had caused her lung to collapse.
"It is clearly a sad case where a young boy, when 14 years of age, stabbed his mother," the lawyer said.
She added that it would be up to the jury to decide if he had attempted to kill his mother and when he did so, if he intended to kill her.
The case continues on Thursday.