Northern Ireland unemployment in further decrease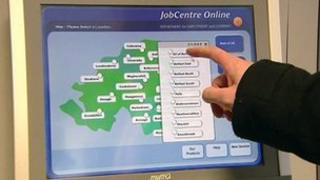 Unemployment has fallen in Northern Ireland again, for the eighth month in a row.
September's figures show 600 fewer people claiming jobless benefit. The NI unemployment rate stands at 7.3%, below the UK average of 7.7%.
The total number of people claiming unemployment benefit in Northern Ireland is 61,600 - a fall of 3,300 over the past eight months.
Enterprise Minister Arlene Foster welcomed the latest figures.
She said the figure "compares favourably to the equivalent rates in the European Union (11.0%) and Republic of Ireland (13.8%).
"The more recent unemployment benefit figures for September are also encouraging, showing a fall in this measure of unemployment for the eighth consecutive month."