Man arrested in Barry McCrory murder investigation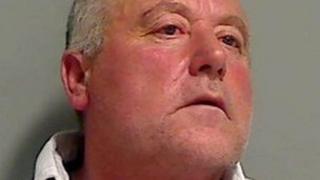 A man wanted in connection with a murder in Londonderry last week has been arrested by police.
Kieran McLaughlin, 58, was found hiding behind a car in the Galliagh area of the city just after 03:00 BST on Wednesday.
Police said he was armed, but no shots were fired.
The 58-year-old is being questioned about the murder of Barry McCrory, 35, who was shot dead at a flat in Shipquay Street last Thursday.
Army bomb disposal experts arrived in Galliagh after 09:00 BST on Wednesday as part of the investigation.
About 40 houses were evacuated in Ederowen Park and the Templemore complex was opened for residents.
The security operation ended at 15:00 BST.
Chief Superintendent Stephen Martin said: "It's a relief that Mr McLaughlin is in custody.
"Three scenes are being held, one is the location of the arrest and the others centre around two vehicles.
"We recovered two handgun type firearms and a shotgun."
The seven-day search ended at Fern Park in Galliagh. Mr McLaughlin had been spotted earlier in County Donegal' in the Republic of Ireland' driving a silver car.
He was followed by Irish police and then by the Police Service of Northern Ireland.
Mr McLaughlin abandoned the car in Galliagh before stealing another vehicle, police said.
Specialist firearms officers then moved in and arrested him.
Chief Inspector Andy Lemon who was in charge of the operation said: "There were no shots fired, there was no-one hurt."