Fears raised in NI over Dublin air travel tax cut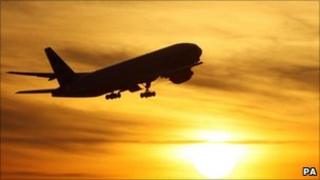 Politicians and business groups have raised concerns about the impact on Northern Ireland's airports after the Republic of Ireland scrapped air travel tax.
The tax had been three euros per passenger, per flight, but this will now be abolished in April.
In Northern Ireland air passenger duty is £13 per passenger, per flight.
Sinn Féin economy spokesman Daithí McKay said Stormont Finance Minister Simon Hamilton should match the cut.
Air Passenger Duty is a devolved matter and Stormont has already abolished air passenger duty on long haul flights.
'No surprise'
That move, effective from the start of 2013, was taken after fears that Northern Ireland could lose its direct flight to New York.
However, Mr Hamilton said that the move by the Republic was "not really a surprise" and that it would be prohibitively expensive to match the cut.
"The cost to the NI block grant and other public services would be significant - between £60 - £90 million a year," he said.
Mr Hamilton added that he believes that the reduction of Air Passenger Duty was a matter for the whole of the UK and that the Executive would continue to lobby the Westminster government on the matter.
The NI Chamber of Commerce said it was "concerned" by the move, fearing it would "further damage Northern Ireland's connectivity".
That sentiment was echoed by Belfast International Airport, which said: "Any tax or regulation prevailing in Northern Ireland which makes our gateways less attractive than those across the border is entirely retrograde with regard to economic development."
However, George Best Belfast City Airport took a more relaxed view, saying the move was "very unlikely to cause a stampede to Dublin for cheap flights".