NI Fire Service: two bosses criticised in PAC report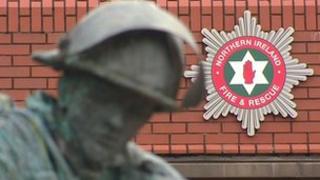 The actions of two senior managers at the Northern Ireland Fire and Rescue Service (NIFRS) were wrong and reprehensible, a report has found.
The Public Accounts Committee (PAC) said the decision to suspend a whistle-blower caused the service reputational damage and financial loss.
The committee's inquiry followed an Audit Office Report that examined a series of investigations by the department of health into whistle-blower allegations and NIFRS financial irregularities.
The NIFRS said it welcomed the PAC report and would consider its findings.
The publication will make embarrassing reading for some of the organisation's most senior members.
Among those named are the former Chief Fire Officer Peter Craig and the chairman, Dr Joe McKee, who recently announced he is standing down.
In July 2011, whistle-blower Linda Ford made a number of allegations of wrongdoing.
The PAC report said Mr Craig's treatment of the case was "appalling", while Dr McKee's decision not to intervene at the time was "wrong."
It said that it appeared to the committee that Mr Craig was, at best, indifferent as to whether the suspension was justified or in accordance with proper procedures, since he acted against legal advice to consult the human resources department.
The committee also found that Mr Craig's attempts to justify his decision to suspend Ms Ford were "entirely unconvincing and reprehensible".
Committee chairperson Michaela Boyle said: "The decision to suspend the whistle-blower has caused both reputational damage and financial loss to the NIFRS."
The assembly member added: "As a committee, we particularly wanted to commend Ms Ford."
Her fellow committee member John Dallat said he hoped people would "take comfort from the steps that my colleagues on the Public Accounts Committee have taken to ensure that whistleblowers are protected, that there's proper grievance procedures and reports are prompt.
"Never again should Linda Ford or anybody else suffer what they suffered.
"Let's hope that lady comes into work with her head held high this morning, because she's a courageous and brave person and she has set an example for others to follow."
'Culture of fear'
The BBC has reported on various aspects of the Northern Ireland Fire and Rescue Service.
A report leaked to the BBC revealed that an internal review of the organisation found that staff were working in a "culture of fear and mistrust".
The report, which gave a scathing assessment of some aspects of the service, followed allegations made by two whistle-blowers.
One of those, Linda Ford, received £20,000 in compensation after she was suspended for reporting financial wrongdoing.
The second whistle-blower who contacted the BBC said while his grievance case had been upheld by an independent investigator, Dr Carol Ackah, it had never been acted upon by senior managers.
At the time the man told the BBC that almost three years had lapsed since he had made the complaint. During that time he was removed from his substantive post and forced to work elsewhere.
This latest PAC report said the case of this man, who was a director, was also badly handled.
The PAC report highlighted that despite Dr Ackah upholding the complaint of harassment, Peter Craig did nothing about it.
Her report was also sent to Dr McKee, who decided not to act on it and refer it as an executive matter instead.
Leaked to the BBC, Dr Ackah's full report found that a senior member of management had behaved in an unprofessional way towards the second whistle-blower.
Her report states: "Terry McGonnigle made unwarranted and unprofessional comments and acted in a manner which showed a lack of respect and trust."
Conflicts of interest
Vindicating the complaint made by the second whistle-blower, this latest report recommends that all outstanding grievance cases are brought to a conclusion as soon as possible.
The BBC also revealed that a senior member of the Fire Service was allowed to run a private business selling uniforms and other protective equipment at the same time that he was in charge of buying uniforms for the service. The man has since died.
While the Fire Service in a report said it was satisfied there was never a conflict of interest, this latest report by the PAC recommends that NIFRS and other public bodies should ensure all staff involved in procurement and recruitment decisions, or other sensitive posts, are required to declare any potential conflicts of interest.
Management must also ensure that appropriate action is taken to manage or avoid potential conflicts when these are recorded.
The Public Accounts Committee also said it was "exasperated" by the fact that it was addressing issues dealt with in a similar report 12 years ago.
The report contains 17 recommendations, including one directed at the department of health.
It says departments must ensure that if whistle-blowing concerns are passed onto an arms-length body, these must be properly and promptly investigated.
In a statement, NIFRS chief executive, Jim Wallace, said: "The NIFRS corporate management team and the NIFRS board welcome the publication of the Public Accounts Committee report and will now fully consider its findings and recommendations in conjunction with Department of Health, Social Services and Public Safety (DHSSPS)."