Mystery over NI-Israel match TV rights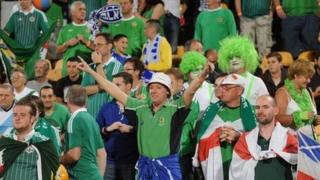 Mystery surrounded who owned the rights to show Tuesday's Israel v Northern Ireland World Cup qualifier.
It was Northern Ireland's last game in the group stages of qualification to Rio 2014, but fans were not able to watch it on television.
The game, which finished 1-1, was not shown on either terrestrial or satellite television.
The Irish Football Association owns the rights to Northern Ireland's home games at Windsor Park.
It then sells on those rights once every four years.
Sky Sports has bought those rights and this allows them to show all of Northern Ireland's home games live.
The BBC has the rights to the highlights package.
However, it is not clear who exactly owns the rights to away games.
Bundle
The IFA says that the rights to away games belong to the football association of the country where the games are being played, and that broadcasters can then bid to buy up those rights.
Geoff Wilson of the IFA said: "It is up to the broadcasters to approach that nation to identify whether or not they want to buy up that signal and broadcast it back into Northern Ireland."
Sky Sports said it did not have the rights to broadcast the game live.
However, the BBC believes the rights to the game were sold by the Israeli Football Association to Sport 5 - an independent company that acts as an intermediary to sell on rights and that Sky Sports bought up those rights in a bundle.
In a statement, the BBC said: "Sky Sports broadcast live coverage of all the other Northern Ireland World Cup qualifiers, home and away, in the current campaign.
"It is the BBC's understanding that the Israel game is part of an output deal agreed with Sky Sports by an international agency. No-one has approached the BBC at any stage to make this game available for live television coverage."
Speaking from Tel Aviv ahead of the game, BBC Northern Ireland's sports commentator, Joel Taggart, told Radio Ulster's Evening Extra that after communicating with the Israeli FA, "Sky Sports do own the pictures, but they have decided not to show the game".