NI fracking decision 'Executive issue' says Foster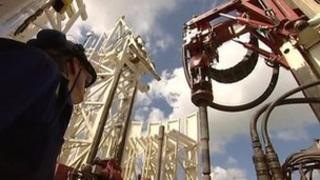 Any decision about fracking should be a matter for the Northern Ireland Executive as a whole, Enterprise Minister Arlene Foster has said.
Environment Minister Mark H Durkan has said he would not allow hydraulic fracturing to take place in the absence of scientific evidence that it is safe.
Mrs Foster said it was a "novel and controversial issue".
She said in the light of the High Court ruling on gay blood donors, it was an issue for the Stormont Executive.
Deposits
Last Friday, a judge ruled Health Minister Edwin Poots did not have the power to keep an "irrational" lifetime ban on gay blood donors, and had also breached the ministerial code by failing to take the issue before the Stormont Executive.
The code requires individual Stormont ministers to consult their colleagues in the Northern Ireland Executive before making decisions that are considered to be highly significant or contentious.
It is believed most of the shale gas deposits in Northern Ireland are in the north west and County Fermanagh.
The gas has to be extracted using hydraulic fracturing, or fracking, which involves drilling horizontally into the rock, forcing sand and water underground to cause tiny fractures that release gas from the shale.
Mrs Foster said no applications for hydraulic fracturing in Fermanagh had yet been made.
However, both ministers confirmed that the company Tamboran planned to drill a deep bore hole to approximately 1,500 metres to obtain a core sample from the shale rock.
Mrs Foster told MLAs that local landowners would have to give their permission before a company with a prospecting licence could drill beneath their land.