Claudy bomb: Two families sue church, police and government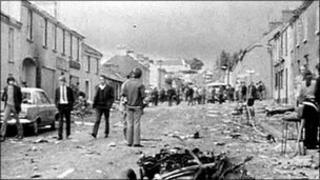 Relatives of two of the Claudy bomb victims are to take legal action, days after police confirmed they were suspending their investigation.
Nine people were killed when three bombs exploded in the County Londonderry village in July 1972.
On Friday, the PSNI told relatives their inquiries would not resume unless new information or evidence emerged.
Lawyers said their clients were suing the Catholic Church, the police and the government.
In 2010, a Northern Ireland police ombudsman's report said detectives had concluded that the late Father James Chesney, who was later moved to the Republic of Ireland, was a suspect.
It said the police, the state and the Catholic Church had covered up Fr Chesney's suspected role in the bombing.
No action was ever taken against Fr Chesney, who died in 1980.
Police have called on anyone who knows anything to come forward.
The legal firm KRW Law said their clients were concerned about "the historical failure to prosecute anyone (and) the lack of accountability on the part of the various parties identified in the ombudsman's report".
They said the families of William Temple and David Millar "felt they have no choice but to seek alternative legal redress to compensate them at least in part for those failings".
"The primary reason in bringing the case is to seek discovery of the material - including intelligence - which was not necessarily made available to the ombudsman when he did his report," the firm said in a statement.
"We also want to force some measure of acceptance on the part of the state in the flawed decision making that undermined the subsequent police investigations."
Both Protestants and Catholics were killed in the Claudy blasts.