Barry McCrory murder: Kieran McLaughlin's family in appeal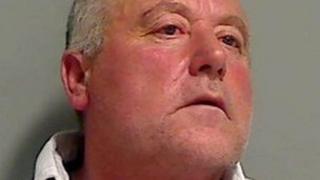 The family of a man whom detectives want to speak to in connection with a murder have appealed for him to come forward, police have said.
Detectives want to interview Kieran McLaughlin, 58, in connection with the killing of Barry McCrory in Londonderry city centre last Thursday.
Detectives say Mr McLaughlin "holds key information" about the shooting at a flat in Shipquay Street.
Specialist officers have been brought in to assist in the search.
Detective Chief Inspector Ian Harrison said there had been a number of unconfirmed sightings of Mr McLaughlin in Derry.
He said the McLaughlin family wanted him to contact the police.
"This whole incident has caused a significant degree of concern within the local community, and we have been liaising closely with Mr McLaughlin's family," he said.
"They wish to see this come to a peaceful conclusion, and that is our wish."
Police have set aside the phone number 02871 210 775 for Mr McLaughlin or anyone with information to contact them. They said people should not approach him.
Mr McCrory's mother Ann told the BBC her son "did not deserve such a brutal and horrific death".
"It's very hard not to think of the circumstances of how he died," she said.
"I can't make sense of it."