Robinson urges Christmas union flag protest caution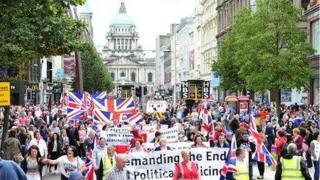 Anyone considering taking part in union flag protests before Christmas should reflect on the possible consequences for businesses and jobs, First Minister Peter Robinson has said.
Major protests took place on Saturdays for several months after Belfast City Council voted last December to restrict the number of days on which the union flag flies at city hall.
Mr Robinson said he had "heard of some proposals to hold protests leading up to the Christmas period".
"I hope people will reflect on the damage that would cause to Northern Ireland and to traders in Belfast, potentially leading to a loss of jobs."
The first minister said the camp at Twaddell Avenue in north Belfast, where people are continuing to protest against the Parades Commission's decision to restrict a 12 July march, would not have that impact.
"I do protect the people's right to protest, provided they do so peacefully and lawfully," he said.