Northern Ireland Consumer Council 'may no longer be essential'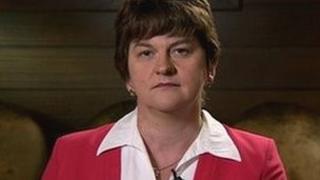 A review of the NI Consumer Council has concluded that it may no longer be essential to consumers, Enterprise Minister Arlene Foster has said.
Mrs Foster said the review found that the council may not be the most cost effective body to represent consumers.
She has launched a consultation on three options.
These include whether the council should remain in existence, an independent body should be created, or the council should be abolished.
If the last option was selected, responsibilities would be transferred to other advice bodies.
Enterprise Committee chair Patsy McGlone said his committee had already advised the minister that the Consumer Council "was not broken, so didn't need fixing".
Mr McGlone asked for assurances that the minister was "not going through a charade of consultation" and that the main driver was not an internal report that has suggested giving the Consumer Council's responsibilities to the Citizens Advice Bureau.
Mrs Foster said the internal report would form only part of her consideration and she wanted to have as wide a consultation as possible before reaching her own conclusions in January.