Purchasing Managers Index (PMI) shows NI improvement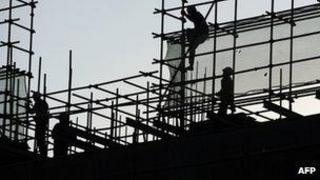 A survey of businesses has suggested the recovery of NI's private sector continued its momentum into the autumn.
The Purchasing Managers Index (PMI) is a monthly survey of a panel of firms and it tracks indicators such as new orders, employment and exports.
It shows NI business activity continued to expand in September, following growth in July and August.
The survey suggests that the troubled construction sector may finally be recovering after a five-year slump.
The PMI data is produced by Ulster Bank.
Richard Ramsey, the bank's chief economist in Northern Ireland, said the survey has been a reliable indicator of the local construction industry's performance.
He said the September results "suggest that the sector has finally boarded the recovery train".
"The September survey represents the best set of monthly figures within the quarter, with a marked acceleration in construction activity and a pick-up in new orders and employment levels.
"Furthermore, construction firms were able to raise prices for the first time in the survey's history."
Mr Ramsey added that improving conditions within the construction sectors in the UK and Republic of Ireland offered further optimism for Northern Ireland's construction and manufacturing firms
Official economic growth figures for the second quarter of 2013, known as the Composite Economic Index or "Northern Ireland GDP", are due be published later this week.