Claudy bomb investigation suspended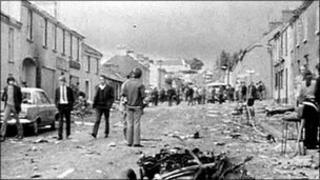 The police have suspended their investigation into the Claudy bombing.
Nine people were killed when three bombs exploded in the County Londonderry village in July 1972.
On Friday, the PSNI told relatives of the victims their inquiries would not resume unless new information or evidence is received.
Ulster Unionist assembly member Tom Elliott, who was at the meeting, said the families felt let down by the police.
"It came like a bolt out of the blue to the victims and indeed to me and others who were there as well," Mr Elliott said.
"We didn't see any of that coming, had no hint of it beforehand at all.
"I have to say it has left the victims deeply frustrated and angry - the families do feel very let down."
TUV leader Jim Allister said in a statement it was "astounding and utterly unacceptable that the police investigation has been abandoned".
"Their haste to move on and forget about Claudy is symptomatic of a reluctance to investigate anything capable of disturbing 'the peace process'," he added.
Police called on anyone who knows anything to come forward.
Priest suspect
In 2010, a Northern Ireland police ombudsman's report said detectives had concluded that the late Father James Chesney, who was later moved to the Republic of Ireland, was a suspect.
It said the police, the state and the Catholic Church had covered up Fr Chesney's suspected role in the bombing.
No action was ever taken against Fr Chesney, who died in 1980.
Both Protestants and Catholics were killed in the Claudy blasts.
The youngest victim was eight-year-old Kathryn Eakin who was cleaning the windows of her family's grocery store when the first bomb exploded.