Racist attack on house at Bloomfield Drive, east Belfast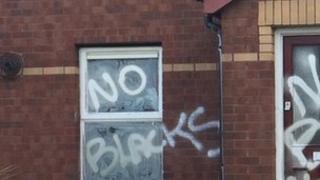 An incident at a house in east Belfast on Saturday morning is being treated as a hate crime, police have said.
Racist slurs were painted on a house in Bloomfield Drive.
The incident happened some time between 01:00 BST and 07:00 BST on Saturday. Other residents of the street told the BBC they were angry about the attack.
They said it did not represent the views of people in the area. Police have appealed for witnesses to contact them.
Police have appealed for anyone with information to contact them on 0845 600 8000 or the Crimestoppers charity anonymously on 0800 555 111.
DUP East Belfast MLA Robin Newton said it was the second such incident in recent weeks.
"East Belfast people are warm and friendly, and are good neighbours who want to get along with everyone," he said.
"Those who carry out such bigoted acts have nothing to offer our community and should stop."
Condemning the graffiti, Ulster Unionist assembly member Michael Copeland said such attacks did not "give a fair representation of what people think".
Alliance councillor Laura McNamee said: "This attack is totally despicable and the community is united in condemning it."