Uncertainty over future of bill to reduce speed limits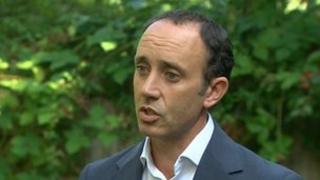 A bill to set a speed limit of 20mph on minor residential roads in Northern Ireland could be dropped following the resignation of an MLA.
Conall McDevitt brought the first stage of his private member's bill before the Northern Ireland Assembly in June.
The former SDLP MLA quit politics at the start of September.
Stormont sources said it was an "unusual situation" that the sponsor of a bill was no longer an assembly member.
Mr McDevitt, who represented South Belfast, resigned on 4 September after he said he failed to declare more than £6,000 earned from a public relations company shortly after he was appointed as an MLA.
The Bills Office said it was considering the future of his proposed piece of legislation. Until a decision is made, the second stage of the bill remains "to be scheduled" on the assembly's website.
Under review
The SDLP said it is currently reviewing the bill and would not be drawn on whether Mr McDevitt's replacement, Fearghal McKinney, could take it up on his behalf.
"Conall McDevitt did a huge amount of work to bring forward a private member's bill, which the party view as a very valuable piece of legislation," a spokeswoman said.
"The private member's bill is currently under review by the SDLP assembly group to see the best way forward."
The bill aimed to reduce the 30mph speed limit to 20mph in urban residential areas in the hope of improving road safety.
Sustrans, a charity that promotes cycling, backed the proposals in its consultation response. Its director, Steven Patterson, said the bill was important for a number of reasons.
"There were three aspects to the 20mph bill," he said.
"The first benefit was to reduce accidents, the second was to make streets pedestrian and cycle friendly, and the third was to reduce carbon emissions.
"If a car hits a pedestrian at 30mph, you've got a 40% chance of getting killed.
"If a car hits a pedestrian at 20mph, it's not a 40% chance of getting killed, it's down to 5%, so there's a dramatic safety benefit to having cars drive a little bit slower."
Referred to Speaker
There are a number of side streets off Ormeau Road in Belfast that already have a 20mph speed limit.
One resident said the traffic had been reduced as a result, although he raised concerns about how it would be enforced if extended elsewhere in Northern Ireland.
"I think it would be difficult to police but I actually think that once people get used to it, they actually do adhere to it," he said.
The DUP's Peter Weir has experience of taking on a private member's bill brought by someone else in his party, although he says he thinks this case is different as it has already had its first reading in the assembly.
"I understand that procedurally what happens is that the bill is referred to the Speaker," he said.
"He has then got to make a decision on whether the bill can simply continue on with somebody else sponsoring it, likely to be from the SDLP, or alternatively because it has gone past its first stage, there may well be a view taken that it has gone too far simply for someone to jump in at this stage and take it over.
"However, if the bill then falls on that basis there is nothing to stop someone else, presumably from the SDLP, introducing the bill again fresh from first stage."