Stephen Carroll murder: Court hears gun discharge dispute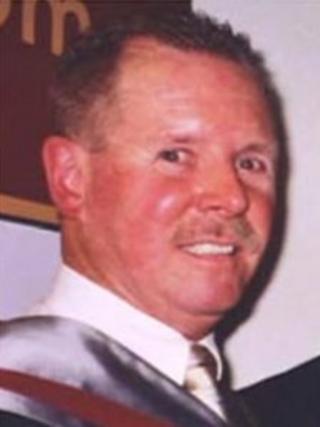 Some gun discharge residue on a coat linked to a man jailed for murdering a police officer could have come from a different incident, a court has heard.
Brendan McConville and John Paul Wootton are appealing convictions for murdering Constable Stephen Carroll.
Constable Carroll, 48, was shot after responding to a 999 call in Craigavon, County Armagh, in March 2009.
The case against McConville and Wootton at the non-jury trial involved DNA and other evidence.
On Thursday, prosecutors accepted they could not prove beyond reasonable doubt that either McConville or the murder weapon were transported in co-defendant Wootton's car.
Instead they argued that the surrounding circumstances confirmed the two men's guilt.
McConville, 42, and Wootton, 22, are both seeking to overturn their convictions for the murder.
McConville, of Glenholme Avenue in Lurgan, County Armagh, is serving at least a 25-year sentence for killing the policeman. Wootton, also from Lurgan, received a minimum 14-year term.
Prosecutors contended that Wootton's car was near the scene of the attack and driven off within minutes of the killing. However, his legal team insist absolutely no evidence exists to link him to any role in the shooting.
Gun residue was found on a coat linked to McConville which was later recovered from the vehicle.
On day three of the two men's joint appeal judges examined whether it could have come from a separate incident.
Connection
Some of the residue could have come from another source, the Court of Appeal heard.
Questioned on whether it could be proven that the coat was at the firing point on the night of the killing, prosecution counsel Ciaran Murphy QC said he could prove a connection with the relevant particles.
Lord Chief Justice Sir Declan Morgan then asked: "Are you proving beyond reasonable doubt that the weapon was transported in Mr Wootton's car?"
The barrister replied: "No."
Sir Declan continued: "Are you proving beyond reasonable doubt that Mr McConville was transported in Mr Wootton's car."
Again the response was: "No."
Mr Murphy contended that scientific evidence connected the murder weapon - an AK47 rifle which was later recovered - to the jacket.
After it was pointed out to him that some of the discharge could have come from a different incident, he stressed the rarity of the particles.
During exchanges Sir Declan said: "The Crown accept there's at least a possibility there was some other source which was responsible for some of the gunshot residue.
"How then do you get from knowing there's another source as well as the gun that was recovered to concluding that other source was not responsible for the entirety of the gunshot residue?"
According to Mr Murphy the surrounding circumstances provided the answer.
Those established "a sufficient case for the trial judge to reach a conclusion that he was satisfied that at least some of these particles originated from the weapon that night", he argued.
Witness defended
Earlier, Mr Murphy defended an account given by a key prosecution witness at the trial.
Defence lawyers attacked his credibility, branding him a compulsive liar and a Walter Mitty-type character whose allegations of what he saw on the night of the shooting were "farcical".
The man, known only as Witness M, has since left Northern Ireland to live under a protection programme.
But Mr Murphy argued that he had reliably recalled seeing McConville near the scene, describing him as someone he knew by nickname and being able to remember exchanging words.
Witness M claimed he was later approached by another man and warned to "keep your mouth shut".
The defence pointed out how he only phoned police to make his claims 11 months later, making the call after drinking into the early hours of the morning.
However, Mr Murphy said: "He was aware in his own mind of the consequences.
"The fact he was drinking at the time has little bearing other than to explain how he may personally have felt and to get up the courage to do what he did because he was nervous and said he had seen someone watching his house on different occasions."
The hearing was adjourned until Friday.