Northern Ireland Executive to open Beijing office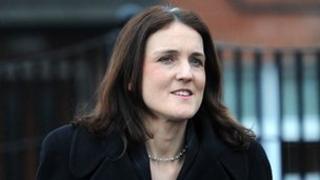 The Stormont Executive is to open a new office in Chinese capital Beijing.
The move is part of an international relations strategy to attract investment to Northern Ireland.
The government and the executive have also approved the business case for a £120m research and development project at Bombardier Aerospace in Belfast.
Secretary of State Theresa Villiers made the announcement as she updated progress on the economic pact agreed between London and Belfast.
She said Invest NI and the Department for Business, Innovation and Skills (BIS) will provide up to £12m and £8m respectively towards the Bombardier project, which could create over 230 jobs in Northern Ireland.
Bombardier did not comment.
The new Beijing bureau was also confirmed by Ms Villiers as she outlined a series of measures to coincide with the two-day investment conference at Titanic Belfast.
They include approval of the executive's request for additional borrowing of £15m over the next two years to progress its flagship shared education campus at Lisanelly, County Tyrone.
In a statement Ms Villiers said: "The success of the G8 summit has given us a solid platform on which to build Northern Ireland's reputation as an attractive destination for investment.
'Long-term challenges'
"The world saw the best of Northern Ireland, and the executive and government are committed to ensuring it continues to be seen as a great place to start and grow a business.
"This week's investment conference will showcase the brilliant business opportunities which exist in Northern Ireland.
"Our reputation for excellence in key sectors and our highly-educated workforce, excellent infrastructure, advanced telecoms and transport networks and competitive cost environment, mean Northern Ireland is now one of Europe's leading inward investment locations.
"However, further action is needed to address the long-term challenges Northern Ireland faces in building a shared society and rebalancing the economy.
"That was the purpose of the economic pact. On both counts - as we demonstrate in today's update - progress has been made. But this is only a beginning and positive steps towards a prosperous and united community will continue."