One Direction causes unholy row over Holy Communion date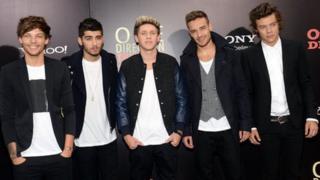 An Irish primary school has been asked to change the date of a major religious event for Catholic children because it clashes with a pop concert.
About 30 pupils at Raheen Gaelscoil in Limerick city are due to receive their First Communion in May 2014.
However, a number of the eight-year-olds have tickets for a One Direction concert in Dublin on the same day and some parents wanted the date changed.
The school balloted all the families, who voted to keep the original date.
'Disrespect'
The Irish Independent newspaper reported that there were "heated exchanges" during a school meeting on Tuesday night when the parents of three children insisted that the Communion celebrations should be moved to another day so their children could attend the concert.
The paper said other parents who attended the meeting were infuriated by what one described as "disrespect shown to the blessed sacrament".
First Communion is one of the seven sacraments of the Catholic faith. Children usually receive their First Communion between the ages of seven and eight and the ceremony is normally organised by their primary school.
In a statement, Raheen Gaelscoil (Gaelscoil an Ráithín) said: "Further to requests from a small number of parents to change the planned date of May 24 next for the reception of Holy Communion for the first time for our 2nd Class (Year Two) pupils, Gaelscoil an Ráithín, in order to reach the fairest outcome for all concerned, balloted parents overnight on this matter.
Sold out
"The result of that ballot has been overwhelmingly in favour of retaining the original date," the statement added.
"Staff, parents and children of Gaelscoil an Ráithín look forward to preparing for this very special celebration next May."
Tickets for One Direction's three Dublin concerts sold out within minutes of going on sale last month and some have been placed on sale on other websites for more than twice face value.
The pop group shot to fame three years ago, after auditioning as solo singers for the ITV talent show, The X Factor.
Since then, they have had more than 60 chart-topping singles and albums across the world.
They are also the first British band since The Beatles to have two number one albums in the same year in the US charts.