Bus and rail travel delays information 'must improve'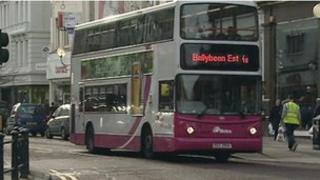 Bus and rail company, Translink, has been urged to address the way it communicates with passengers when there are delays and cancellations.
The call has come from the Consumer Council following the publication of Translink's charter monitoring results.
However, Translink said rail customers rated the service the best ever, while bus passengers were "really satisfied".
The research was carried out between April and June this year.
Independent monitoring of Translink's services is carried out twice a year.
Aodhan O'Donnell of the Consumer Council said: "Translink continue to report high levels of punctuality and reliability for all services, which is good news, however, these results show that many passengers are not satisfied with the standard of information and support provided when services are disrupted."
The results show that for both Metro and Ulsterbus services, only three in 10 passengers believe Translink provides passengers with prompt warnings and assistance in the event of delays and cancellations.
In addition, only 30% of 10 Metro passengers and 25% of Ulsterbus passengers believe Translink responds quickly to customer complaints or comments.
Mr O'Donnell said: "Ensuring that buses and trains run on time is an essential part of the Translink service.
"However, the company must focus on communicating effectively with their passengers, especially during delays and cancellations. This is when passengers have a greater need for information and Translink must do better to meet passengers' expectations."
Paying customers
Translink said it had beaten all its time targets and was "getting things right".
Ciaran Rogan of Translink said: "NI Railways results are again excellent and the company continues to outperform comparable GB operators in almost all measured aspects.
"On both buses and trains, free wi-fi, innovative customer information apps and ticketing, new vehicles and greater frequency mean more people are making the choice to travel with us and avoid the hassle and cost of having to take the car. "
"Our 'on time' and great value for money services meant we had 1.5 million more fare-paying customers in the past year."