Police ombudsman begins Gerry Adams investigation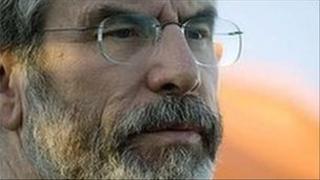 The police ombudsman has begun an investigation into how the police handled the Liam Adams case.
The office confirmed a complaint had been made to it by three senior DUP figures: Edwin Poots, Jonathan Craig and Paul Givan
Sinn Féin leader Gerry Adams' brother, Liam, was convicted last week of raping his daughter, Áine, in the 1970s.
It is understood the complaint is linked to Gerry Adams' evidence. Gerry Adams said he had committed no offence.
Edwin Poots, Jonathan Craig and Paul Givan complained that the police did not properly investigate a witness statement about the abuse allegations.
A spokesman for the Police Ombudsman confirmed on Wednesday that the matter had now been passed on to an investigations' team.
Meanwhile, the attorney general is to review a decision not to prosecute Gerry Adams for allegedly withholding information on his brother.
However, the Sinn Féin leader has said he had co-operated fully with the police, the Public Prosecution Service and the courts.
Liam Adams was convicted of abusing his daughter over a six-year period.
Giving evidence at the first trial in April, Gerry Adams said his brother admitted that he had sexually abused Áine Adams. He made the admission during a "walk in the rain" in Dundalk, County Louth, in 2000, Gerry Adams said.
Link to pdf of cross-examination of Gerry Adams
[334kb]
Gerry Adams said that, during the encounter in Dundalk, his brother, while admitting molestation or sexual interference or assault, did not admit rape.
The Sinn Féin president made his first report to the police about the allegations in 2007, shortly after his party voted to accept the Police Service of Northern Ireland.