Orangefield High closure plan 'a shambles'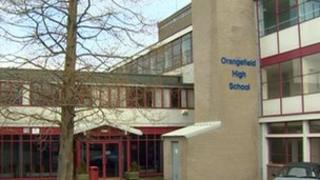 Stalled plans to close an east Belfast school have created a "monumental mess", Stormont's Education Committee has heard.
The Belfast board had proposed to close Orangefield High School this summer and offer the pupils places in nearby Ashfield boys or girls schools.
But a shortage of places means the plan has been postponed at least until next year.
DUP MLA Robin Newton said the situation was a "total shambles".
He said parents were dissatisfied and frustrated at the "very unprofessional manner" in which the proposed closure had been handled.
Gavin Boyd, who was acting chief executive of the board when the plan was made, told the committee the development proposal to allow it to happen had not been approved by Education Minister John O'Dowd.