Stephen Carroll murder appeal hears no evidence claim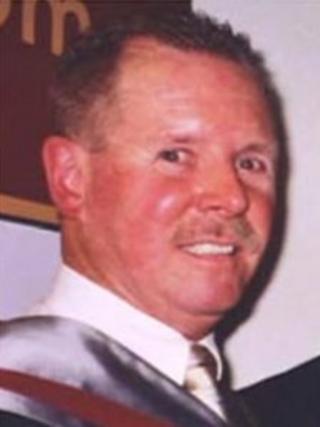 There is no evidence to link one of the two men jailed for murdering Constable Stephen Carroll to any role in the killing, the Court of Appeal has heard.
Constable Carroll, 48, was shot after responding to a 999 call in Craigavon, County Armagh, in March 2009.
Brendan McConville and John Paul Wootton are both appealing against their murder convictions.
Wootton's counsel said the quality of forensic science used by the prosecution was "lamentable".
McConville, 42, of Glenholme Avenue in Craigavon, is serving at least a 25-year sentence for the murder. Wootton, from Collindale in Lurgan, received a minimum 14-year term.
The case against them at the non-jury trial involved DNA and other evidence.
Prosecutors contended that Wootton's car was parked close to the scene of the attack and drove off within minutes of the killing.
Gun residue was discovered on a coat linked to his co-defendant that was found in the vehicle.
'Not simply a dearth'
But Arthur Harvey QC insisted that no role in the shooting was ever attributed to Wootton.
"There was not simply a dearth, but a total absence of evidence to connect the defendant to any specific act relevant to the murder of Constable Carroll," he said.
As both appellants listened to his submissions, Mr Harvey argued there was nothing to confirm the coat had been used on the night of the shooting.
He claimed the scientific evidence was significantly reduced by deficiencies in the research.
Recalling criticisms raised at the original trial, the barrister continued: "The quality of work from the forensic scientists representing the prosecution in this case was lamentable.
"It failed to conform to even the most fundamental basic requirements and was predicated upon, as one can ultimately see... a conclusion which was to be propelled by an already predetermined destination, namely that particles on that jacket came from the firearm event that evening."
Prison note
Earlier in the hearing, it emerged that lawyers for McConville are to seek to have former prison ombudsman Pauline McCabe and former Maghaberry jail governor Steve Rodford called to give evidence at the appeal.
An investigation by Ms McCabe into the discovery of a note containing Mr Rodford's personal details in McConville's cell in 2009 concluded that it was probably planted by a prison officer.
Mr Rodford resigned a short time after the note was found.
The appeal continues.