Commissioner Kathryn Stone: Victims 'made to feel like beggars'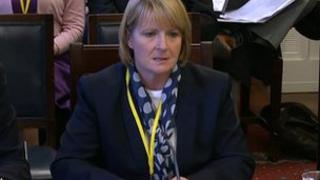 The victims commissioner has strongly criticised a new victims service set up last year, saying people are being made to feel like beggars.
Kathryn Stone told a Stormont committee people were being dissuaded from coming forward and were being re-traumatised.
She also said the assessment service being used by the Victims and Survivors Service was not "fit for purpose".
Anne Dorbie of the Victims and Survivors Service described the criticism as "grossly unfair".
The service was set up in April 2012 to provide support for victims.
The commissioner said she wrote to it outlining her concerns on 9 September but has still not received a written response.
She had a number of specific concerns about the work of the service, aside from the assessment process, including delays in providing information and issues around data protection.
Mrs Dorbie, the chief executive of the service, told the Office of First Minister and Deputy First Minister (OFMDFM) committee they took criticism "extremely seriously", and that the individual needs review process "has proved a little bit difficult for some people".
"There's no doubt some people get upset," she added.
Mrs Dorbie said it was certainly not the intention to re-traumatise anyone.
She said it had become clear that members of the commission staff "did not understand the individual needs review process and they're coming on Friday to be walked through it".
'No-win situation'
In reply to a question from the SDLP's Alex Attwood, Mrs Dorbie said she thought the assessment process was fit for purpose.
Earlier, Ms Stone told the committee she very much regrets if any victims have been hurt by recent remarks she has made.
She said she felt she was in a "no-win situation" and would like to get back to talking about victims' needs.
She added that her role legally requires her to be completely neutral, and she "completely condemns violence towards any group or individual by any group or individual".
Ms Stone told the committee that it was her job to ensure the voices of victims were heard, and to support all victims as defined by current legislation.
She said it was the job of politicians to debate and decide such matters as the Special Advisers Bill, the location of the Conflict Resolution Centre and the definition of a victim.
Last week, Ms Stone said she had "no hesitation at all in condemning all acts of violence" amid controversy over her stance on paramilitaries.
The commissioner faced a call to "consider her position" due to comments she made in an interview with the News Letter newspaper where she refused to be drawn on whether she believed the IRA and UVF were terrorists.
The TUV leader Jim Allister said her response had "fatally undermined her ability to represent innocent victims".
Ms Stone was appointed to the role of Northern Ireland victims commissioner in September 2012.