Lord Maginnis drops appeal over road rage conviction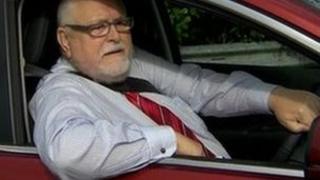 A Northern Ireland peer has dropped plans to appeal his conviction for assaulting a man in a road rage incident, he has revealed.
Lord Maginnis also disclosed that an anonymous benefactor is paying the £200 fine imposed on him.
The 75-year-old former Ulster Unionist MP was found guilty in August of assaulting Keith Kirk during an altercation last year.
He had previously said he would go to jail before paying the fine.
He had admitted calling Mr Kirk a "yellow-bellied bastard" during the incident in Dungannon, County Tyrone, but denied grabbing him and raising his fist.
Following his conviction at Dungannon Magistrates' Court a judge imposed a £200 fine and the same amount in compensation to the victim.
At the time Lord Maginnis vowed to challenge the verdict.
But those plans have now changed due to the publicity surrounding the case, he said.
In a statement he said: "I firmly believe and maintain I have been the victim of a grossly unfair and unnecessary prosecution.
"However, on the advice of my lawyers, I have decided not to proceed with my appeal which, however justified, will only serve to highlight a case that has already received disproportionate attention and has become a distraction to my work which has always been in total support of the proper and fair administration of justice."
Lord Maginnis added: "Although I had been prepared to go to prison rather than pay any fine, an anonymous benefactor has insisted on discharging the financial penalty in recognition of '... your many years in support of justice, the police and the courts'."