Omagh engineering firm Telestack to create 40 jobs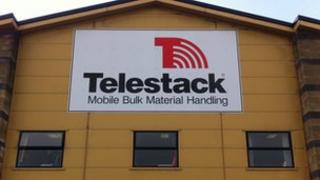 An engineering company in County Tyrone is creating 40 jobs as part of a £3.1m expansion.
Omagh firm Telestack is aiming to increase global sales of its equipment that is used to transport bulk materials.
Enterprise Minister Arlene Foster said the 40 skilled jobs will contribute over £1m a year to the economy.
She said: "This substantial capital investment is a significant boost for one of our most successful industries."
Invest NI has offered the company £444,000, part funded by the European Regional Development Fund, to extend its factory and enhance IT systems.
Mrs Foster added: "Northern Ireland is a recognised centre of excellence in the design and manufacture of materials-handling equipment.
"This investment is very welcome news for the local area which is renowned for heavy engineering equipment production and also has the skills base to facilitate Telestack's growth plans."
The conveyor and loading systems Telestack design and manufacture are used to transport a wide range of bulk materials in mines and quarries, railways and ports all over the world.
Adrian McCutcheon, Telestack's managing director, said: "We aim to substantially increase our sales from global customers by 2016 and so need to extend our workforce and operational facilities to support this expected growth.
"The support offered by Invest NI was essential in our decision to undertake this expansion which will help to underpin our competitive position in the sector and secure emerging new business across South America, Australia, Africa and the USA."