Trimble and Mallon criticise current Stormont Executive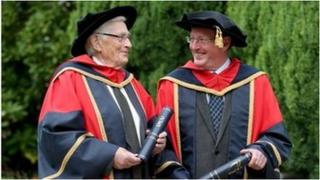 Northern Ireland's former first and deputy first ministers have criticised the current Stormont Executive.
David Trimble and Seamus Mallon were speaking after they were conferred with honorary doctorates by Dublin City University.
Mr Trimble said the current administration was not delivering very much apart from its existence.
Mr Mallon said the DUP and Sinn Féin were lacking in political leadership.
The two men travelled to Dublin to receive their doctorates in recognition of their "courage, dedication and a lifetime of commitment to the service of others".
The pair were awarded the honour at the Helix on the 15th anniversary of the Good Friday Agreement.
Mr Mallon told the Irish Times on Tuesday that Northern Ireland "could become apolitical because that leadership is not there".
"Every single important issue that has cropped up, they have walked away from it," he said.
"The most recent one was the Maze, then there is the whole question of education."
Northern Ireland's former first minister David Trimble told the paper that the differences faced by today's Executive were "of a different order" to what they were 15 years ago, but would have to be resolved at a local level.
In his acceptance speech, he said the present administration was "not delivering very much apart from its existence, which is important".