New campaign targets Northern Ireland seatbelt use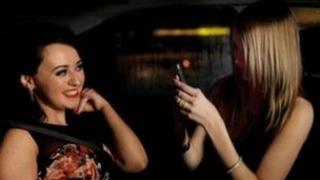 A road safety advertisement to encourage more people in Northern Ireland to wear seatbelts will be launched later.
Seven people were killed and 36 were seriously injured last year, as a result of not wearing a seatbelt.
While the vast majority of people wear seatbelts in Northern Ireland, government research indicates that there are lapses.
This is particularly true for young people, research suggests.
They may unbuckle their belts for a short while to turn and chat or show photographs on mobile phones to their friends.
Environment Minister Mark H Durkan said: "We in Northern Ireland are doing the right thing - we are setting the standard also when it comes to rear seatbelt wearing.
"We are second not only in Europe, but in the world, at 95%, just behind Germany's rear seatbelt wearing rates at 97%.
"Many people are alive today because of this simple action, which has practically become second nature to us."
However, he said there were inevitable lapses.
"These tend to occur when travelling socially with family or friends, on short journeys, and many at night," he said.
The aim of the new campaign is to dramatise the lethal and devastating consequences of not wearing a seatbelt, especially in the back where the wearing rate is lower.
The message is that, without a seatbelt, you become a lethal missile inside a vehicle; with the real danger that you could seriously injure or kill someone close to you.
"My department estimates that overall two lives, 22 serious injuries and 120 slight injuries could be saved each year were a 100% wearing rate observed," Mr Durkan said.
The seatbelt campaign will run in the media over the coming weeks.