Go-ahead for multi-million pound west Belfast development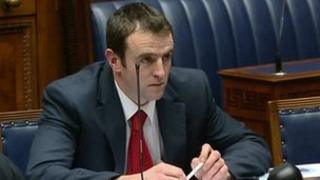 Planning permission for a multi-million pound development in west Belfast, to include 450 homes and a hotel, has been approved by the environment minister.
The development is on land known as Glenmona, off the Glen Road.
The application has been made by the trustees of the Diocese of Down and Conor.
The minister, Mark H Durkan said it would be "a tremendous economic and social boost for west Belfast. It will regenerate this part of the city."
The scheme for the 34 hectares of land proposes:
450 houses
replacement of existing care facilities
light industry and business
an education campus
a hotel
a range of retail and community and cultural uses within a single shopping area;
a variety of open space and recreation areas including playing fields
Mr Durkan added: "This will provide much needed housing for the area, both private and social. It will pump many and much needed new jobs into west Belfast.
"A hotel, education campus, local retailing, recreation and community facilities plus extensive areas of open space, will breathe life in to this area during the day and in to the evening.
"This extensive range of facilities can be enjoyed by prospective residents as well as encouraging people into the area."
The department received one objection and one letter of support in relation to the application.
In a statement, the trustees said they welcomed the decision.
"This application for outline planning approval was rooted in widespread consultation over a number of years with key community and political groups," they said.
"We hope that this approval will contribute to spearheading the regeneration of Belfast and offer a catalyst for the wider economy at these difficult times."