Council worker Alan Devenney's death could have been avoided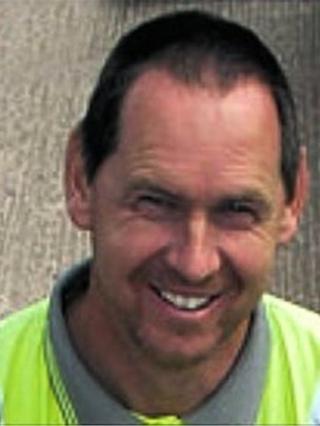 The death of a council worker two years ago could have been avoided, Antrim Crown Court has been told.
Coleraine Borough Council employee Alan Devenney was crushed to death in July 2011 under an 11-tonne industrial skip full of compacted waste.
The skip fell as it was being hoisted on to the back of a lorry.
A defence lawyer admitted the tragedy could have been averted had the council picked up on a health and safety warning issued in 2008.
Mr Devenney, a 39-year-old father of two, had been clearing waste from around the rear of the lorry at the Loughanhill waste disposal depot unaware that the lifting gear had not hooked up properly to the skip, but had instead punctured the container.
As it was raised, the strain and weight caused the hook to rip free with Mr Devenney dying instantly under the skip.
Health and Safety GB highlighted the possibility of such a catastrophic failure with an internet warning in July 2008.
It said the failure could have been averted by installing a £150 backplate on the waste container.
The council has pleaded guilty to health and safety legislation breaches over Mr Devenney's death.
Defence counsel said the council had tightened up its waste disposal procedures since the death of the "enormously well-liked and popular man".
He also said the Loughanhill depot is due for a major revamp and that "a very significant sum of money" had been put aside by the council in meeting their responsibilities in respect of the case.
'Inexcusable'
The death, he added, had had a profound and lasting impact among close-knit council workers, and continues to have reverberations at every level.
But he said the remedies now in place at the Loughanhill site were such that the chances of such a tragic accident happening again "have been reduced to almost vanishing point".
A prosecution lawyer said it was the lack of following the correct procedures and implementing the proper controls which resulted in the tragedy.
She said Coleraine council, like many councils throughout Northern Ireland, was a major employer, and as such had "dedicated safety officers and it is inexcusable. In this case they had failed to identify the risks involved and to put measures in place to make for a safe workplace".
She added: "Managing waste is a large part of a council's business and the reasonable expectation is they should know how to do it safely."
The tragic death of Mr Devenney "exposed systematic management failures" of Coleraine council in not keeping "abreast of, and implementing current guidance" on operating procedures.
Judge Desmond Marrinan said he wished to consider the case, and adjourned his sentence.