Northern Ireland has only 'half' the required number of A&E consultants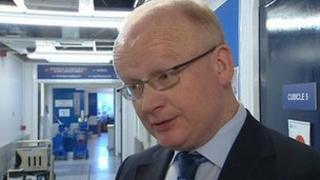 A senior A&E consultant has said that hospitals in Northern Ireland are operating with only half the required number of emergency consultants.
Sean McGovern said there are currently 56 A&E consultants working across NI's nine emergency departments.
"That is probably, in rough terms, half the number that we require," he added
He was speaking as a UK-wide survey of A&E consultants found six in 10 thought their jobs were unsustainable due to staff shortages and work-load pressure.
The research was carried out by the College of Emergency Medicine, which surveyed just over 1,000 UK consultants.
'Struggling'
Their responses suggested that excessive pressure on A&E consultants has the potential to put patients at risk.
Dr McGovern is the clinical director of emergency medicine at the Ulster Hospital and is also vice-chair of the College of Emergency Medicine in Northern Ireland.
He told BBC Radio Ulster that A&E departments in Northern Ireland were currently safe but "struggling" to provide the level of service required.
He said they were trying to provide emergency care 24 hours a day, seven days a week, with 56 A&E consultants.
He added that "to put it in broad context", that figure was just over half the number of politicians currently employed at the Northern Ireland Assembly, which has 108 MLAs.
"Obviously, people are struggling at this moment in time to have a safe system of care. That is evidenced by the need for locums on a consistent basis."
He said "the system at the moment is safe for people" but added that there is a need for "radical change".
"Over the next 12 months or so there needs to be change. We're heading into a difficult winter situation and we need to look at changes in the whole system of emergency care."
'High demand'
Dr McGovern said the UK-wide survey had pointed to consultants' fears of an increased demand on A&E services and fewer doctors opting to specialise in emergency medicine.
"This (survey) document that has come out is in relation to the reasons why people are not entering the specialty. The high demand, especially, it's a 24/7 demand specialty. And the document clearly points out there are inequities - most people will not work beyond 60 years of age, when now the pensionable age is 68."
He added that in Northern Ireland there was "clear evidence of people emigrating, there's clear evidence of people taking a few years out in Australia".
"There are now new trainees coming through who would be expected to take up posts shortly, but they themselves are thinking about emigrating to other areas," Dr McGovern said.
From Northern Ireland's 56 consultants, 50 responded to the College of Emergency Medicine survey.
Of that number, 78% said that their job was not sustainable in its current form, the highest percentage of all UK regions.