Exploris: Minister Carál Ní Chuilín 'can't commit' to fund aquarium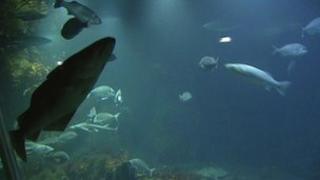 Culture Minister Carál Ní Chuilín has said she cannot commit to funding the Exploris aquarium in Portaferry.
The County Down aquarium has been threatened with closure due to concerns over running costs.
During assembly question time, Anna Lo of Alliance asked the minister if she would commit to funding the aquarium "as a regional facility".
The minister said this could result in a queue of facilities claiming to be of regional importance.
Ms Lo said she was disappointed by the minister's response.
Referring to the campaign to keep the aquarium open, Ms Ní Chuilín said she needed to "see the detail", and that no minister would be press-ganged into giving an answer.
Ards Borough Council, which runs the aquarium, recently deferred a decision on its future for two months.
It currently costs ratepayers £600,000 per year to maintain the marine conservation facility on the shore of Strangford Lough.
The council had been trying to find ways to "reduce the financial burden" on ratepayers, but a deal with a private firm, Livingstone Leisure, fell through last month.