Health Minister Poots meets police chief over Liam Adams case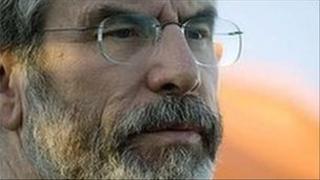 Health Minister Edwin Poots has met chief constable Matt Baggott to discuss the police's handling of the Liam Adams case.
Liam Adams was convicted last week of raping and abusing his daughter, Áine, over a six-year period in the 1970s.
The attorney general is to review a decision not to prosecute Sinn Féin leader Gerry Adams for allegedly withholding information on his brother.
Sources say Mr Poots will raise the matter at Stormont question time later.
It is thought likely the DUP minister will call for the police ombudsman to examine the police's handling of the case.
It is understood the chair of the Stormont Justice Committee Paul Givan was also at the meeting.