Shankill bomber Thomas Begley event 'will distress families'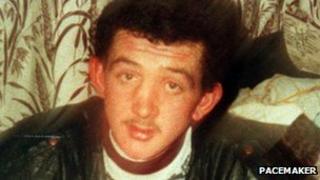 A man whose wife was killed in the 1993 Shankill bomb has said some families will be distraught at news of a commemoration for one of the bombers.
Thomas Begley, from Ardoyne, died after the device he was carrying went off in Frizell's fish shop 20 years ago this month. Nine other people were killed.
Alan McBride's wife Sharon and his father-in-law John Frizell were among the victims.
He said he felt for victims' families after hearing of the commemoration.
"Because of the fact that he was a notorious person who took nine lives on the Shankill Road you would very much feel for the families today," Mr McBride said.
"The Shankill bomb, because it was a high-profile atrocity, it was always going to receive widespread media attention.
"Obviously families are going to hear about this and some of them are going to be distraught because while Thomas Begley is some mother's son, he's the person who took their loved ones' lives away and they're going to be filled with all sorts of grief and trauma."
He said everyone had a right to remember their dead relatives, but it had to be done in a sensitive way.
'Distress'
"People will remember in the way they want to remember and I suppose all you can ask is that we establish a set of principles around not rubbing people's noses in it," he said.
Sinn Féin MLA Gerry Kelly defended the commemoration. He said Mr Begley's family wanted to remember him "in a quiet and dignified way".
"Nobody involved in this is trying to glorify what happened or trying in any way to commemorate the Shankill bombing," he said.
"They are there on the basis that this young man died in that same bombing and they want to remember him."
Ulster Unionist councillor John Scott whose niece, Wilma McKee, died in the Shankill bombing said that commemorating Begley as a hero was "sickening".
"I can understand that a family may want to remember a son, but this isn't the way to do it, given his crimes," he said.
Alliance leader Naomi Long said the commemoration would cause "unnecessary distress" to the relatives of those who died.
"Those who are organising this event are failing to respect and show sensitivity for victims and it is clear lessons have not been learnt from the Castlederg parade," she said.
"I would urge those involved to reconsider their actions, particularly at a time when victims' families will be reliving their loss at this anniversary and when there are already heightened tensions in the area."
The commemoration event is being held on 20 October - three days before the 20th anniversary of the atrocity.