Arlene Foster: Parade protests 'must remain within the law'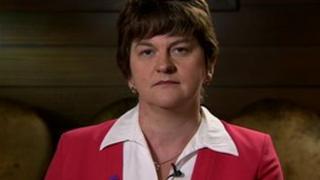 A senior member of the Democratic Unionist Party has defended the right of Protestants to protest about parades but said they must be peaceful.
Arlene Foster's comments come after a senior Orangeman said protests over a contentious Orange Order parade could include "civil disobedience".
William Mawhinney made the comments at a protest rally over restrictions to a 12 July parade in north Belfast.
Ms Foster urged young people not to get involved in criminal activity.
Northern Ireland's enterprise minister told the BBC's Sunday Politics programme: "We very much defend the right of people to protest on any issue.
"But what must happen, and I do make this very clear, is that people must remain within the law of the land when they engage in protest," she said.
"Some people, during the flags protest, went out to protest and things went further than they should have gone and therefore those young people now have a criminal conviction
"I do not want to see young people, whether in Belfast or anywhere else in Northern Ireland, blighted with a criminal conviction for something that they will regret for the rest of their lives."
The Orange Order has been staging a protest in the Woodvale area every Saturday since part of its parade was stopped in July.
It was prevented from returning along part of the Crumlin Road separating loyalist and nationalist communities. Several nights of violence ensued.
Addressing a crowd of about 500 people on the Woodvale Road on Saturday, Mr Mawhinney said the parade protests would be "up-scaled... right up to civil disobedience if that's what it takes".
The County Grand Secretary in Belfast added: "The camp and the protests continue as strongly as they ever did from when they first began."
Mr Mawhinney was flanked by a number of politicians, including her party colleague Nelson McCausland of the Democratic Unionist Party.
When asked about Mr McCausland's appearance at the rally, Ms Foster, told the BBC: "I know that Nelson will have been there, and he will have been exercising his right, but he will also have been exercising his responsibility as he always does in those occasions.
"He will have been bringing calm to the area and talking to people to make sure that things did not get out of hand and I very much defend the right of Nelson to be there."
The Orange Order has not said exactly what it means by civil disobedience, but has insisted it doesn't mean violence.
Sinn Féin President Gerry Adams said positive leadership was needed within unionism to take a stand against "illegal marches, sectarianism and violence, and the provocative actions of the Orange Order in Belfast".
"The lack of real leadership by unionist leaders has had a negative effect on public opinion and confidence in the power-sharing institutions is being undermined," he said.