Rise in September sales of new cars in Northern Ireland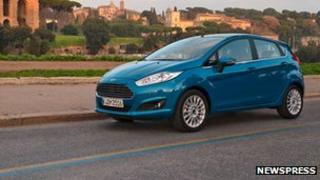 New car sales in Northern Ireland were 12% higher in September, compared to the same month last year.
The figures from Society of Motor Manufacturers and Traders (SMMT) show 6,072 new cars were registered in September.
The cumulative year-to-date figures also show rising sales, up by 9% on 2012.
New car sales are seen as an important measure of consumer spending in Northern Ireland.
Currently the most popular car for new buyers in Northern Ireland is the Ford Fiesta.
Across the UK, new car sales hit the highest level for five and a half years.
The SMMT's chief executive, Mike Hawes, said: "The UK market is reflecting growing economic confidence."
The SMMT said the growth also reflected the fact buyers were returning to the market after a period of holding off.
Buyers typically tend to replace new cars after three years, but because of economic conditions in recent years may have left that longer.