Life for residents living at Northern Ireland's peace walls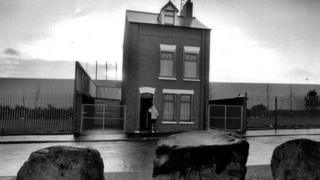 Peace walls were first erected in Northern Ireland in the late 1960s as a temporary measure to minimise violence between nationalist and unionist communities.
Four decades later many are still in place.
A BBC documentary True North: The Wall meets the men and women who live in the shadow of these walls.
Filmed for almost a year, the documentary features life at one of the most controversial peace walls in Northern Ireland, at the Short Strand in east Belfast.
'Inundated with golf balls'
Film-maker Eamonn Devlin said for 90% of the time "people living at the peace wall have the same life the rest of us have".
"But for 10% of the time during the contentious issues that we suffer from in Northern Ireland, life is far from normal," he said.
"It's always in the back of the mind of the people who live there.
"If you live with a 40ft wall in your back garden and you're inundated with golf balls, with bottles with bricks etc coming over, can you ever get a proper night's sleep, is the threat always in the background - there's a sinister element with having a wall in your back garden.
"I suppose the film in many ways examines how people living at the wall normalise their lives or try to normalise their lives, how they cope with having the wall."
One of the contributors was Frankie Quinn, a photographer who comes from the Short Stand.
He has spent time recording peace walls throughout Northern Ireland.
"When I started photographing in 1982, the walls weren't as big as they are now," he said.
"They've got taller, they've got stronger.
"People have to get on with their daily lives in the shadow of this wall. This is the frontline - people's backyards back up right to the wall."
Eamonn Devlin said people had mixed views on the future of the walls.
"I think generally speaking people living at the coalface want the walls to stay," he said.
"The hope is that one day they will come down, but it's not in the foreseeable (future)."