Recruitment for new Parade Commission members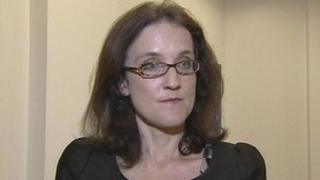 The Secretary of State has announced a public appointments process to recruit a new five-member Parades Commission.
The term of the current commission members is due to end on 31 December.
However, Teresa Villiers said the three-year appointments could finish early if the Haass talks achieved a consensus on a new devolved system of decision-making on parades.
Former US diplomat Richard Haass is chairing multi-party talks on parades, flags and the past.
"The Haass talks provide a welcome opportunity to see if a devolved solution can be agreed for the adjudication of contentious parades," Ms Villiers said.
"I am very supportive of that work and I hope that progress can be made. In the meantime, the Parades Commission will continue to be the body responsible for these matters."
The secretary of state said she regarded the task carried out by the Chair of the Parades Commission Peter Osborne and the members as one of the "most important and challenging" in Northern Ireland.
"He and the rest of the commissioners have fulfilled their role with fortitude and commitment over the past three years," she said.
"I would like to place on record my gratitude for their public service under difficult circumstances."
The positions will be advertised in the local press and on public appointments websites in the coming weeks.
Ms Villiers said she would be writing to the leaders of all the Northern Ireland political parties asking them to encourage suitable candidates from across the community to apply.