South Belfast alert to continue through night, say police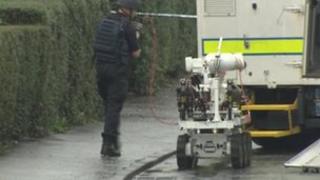 A security alert in south Belfast is expected to continue through the night, the police have said.
The alert began at around 15:00 BST and has caused serious disruption to residents and road and rail travel.
Army bomb experts were called in after a suspicious object was reported on the train lines at Finaghy Halt station.
Homes in the area have been evacuated, traffic has been disrupted and train services into and out of Belfast have been affected.
Finaghy Road North has been closed at its junction with Finaghy Park Central and Diamond Gardens.
Road closures are also in place at Finaghy Road North at its junction with Ardmore Park South.
'Inconvenient'
A number of houses have been evacuated in the areas of Finaghy Road North, Finaghy Park Central, Finaghy Park North, Ardmore Avenue and Diamond Gardens.
Catherine Graham is one of the residents affected and said: "The police haven't given us a time to return to the house. From three o'clock we've been sitting in the library and the church hall waiting to return home.
"As far as we know we're going to be out of the house all night. I just got time to lift the baby's food and that was it, we had to leave. It's so inconvenient and nobody really wants the hassle of this."
The Lowe Memorial Church on the Upper Lisburn Road has been made available for evacuated residents in need of shelter.
A Red Cross bus will also be at the church to help any evacuated residents.
A bus replacement service is in operation for train services between Great Victoria Street and Lisburn, and a Translink spokeswoman warned passengers to expect delays.