Law Society says Northern Ireland legal aid budget mismanaged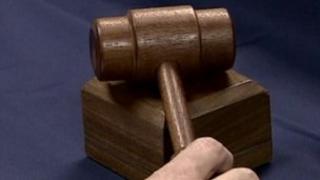 The body that represents solicitors in Northern Ireland has accused the justice department of mismanaging the legal aid budget.
The Law Society said the department is guilty of "unacceptable ineptitude".
In 2011, the rising cost of legal aid led to a dispute, with some solicitors withdrawing their services in protest against lower fees for criminal cases.
Justice Minister David Ford is currently consulting on reducing the fees for civil legal aid.
Mr Ford stuck to his final offer on legal aid in criminal cases, claiming he had saved the taxpayer £20m a year.
Law Society Northern Ireland president, Michael Robinson, said solicitors are not to blame, claiming the justice department is not taking into account the true volume of work going through the courts.
Mr Robinson said: "I am increasingly convinced that these latest attacks on legal aid are a fundamental attack on the network of solicitors firms in Northern Ireland and on access to justice for those most in need in our community.
"What we are witness to is a clear case of a 'slash and dash' approach to legal aid budgets without any informed consideration of the real value of legal aid services, of the work and representation which is undertaken by solicitors, and of the implications of the proposals on the community at large.
Shelved
"The department resembles a doctor entering an operating theatre with a blindfold and a sharpened scalpel. The department is blind to what it is doing. The prognosis for the patients who are our clients and our member practitioners is extremely poor.
"The Law Society will not, and cannot, stand by and simply watch the assault on the network of community legal service firms."
The justice department's consultation on reforming civil legal aid is due to close next month but the Law Society said it should be shelved until a better way forward can be agreed.
Mr Ford said: "Considerable progress has been made in bringing criminal legal aid expenditure under control, but civil legal aid expenditure has continued to rise: £36.9m in 2009/10, £41.9m in 2010/11 and £48.7m in 2011/12.
"We continue to be the most expensive region of the UK for costs of legal aid.
"One of the findings of the review we undertook was that the levels of representation certified for legal aid did not necessarily always relate to the expertise actually required to deal with the legal issues in dispute.
"The review therefore recommended that the levels of representation funded by civil legal aid should be urgently reviewed in order to meet such rising costs."