Toomebridge murder: Phelim McNally admits killing ex-partner's sister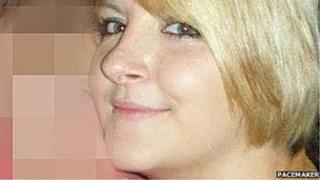 A 27-year-old man has been sentenced to life imprisonment for the murder of his former partner's sister.
Phelim McNally, from Station Park in Toomebridge, County Londonderry, was also found guilty of attempting to murder the mother of his two children.
A jury had been sworn in to hear the case, but McNally changed his plea.
Ms O'Neill was shot dead in William Court in Bellaghy in May 2012. Her sister, Brenda, 22, was seriously injured.
The jury had been sworn in at Londonderry Crown Court but McNally pleaded guilty before a packed Belfast Crown Court, where his case had been listed at the last minute.
Following his pleas, the judge told McNally the only sentence the court could pass, was one of life imprisonment.
He said later this month he would "deal with the question of the appropriate tariff", setting out how long he must serve before being considered for parole.
The O'Neill family's parish priest, Father Andrew Dolan, said McNally's admission of guilt had taken them by surprise.
"I think it took them and it took everybody a bit on the hop that it all ended so quickly," he said.
"Yesterday there was no word of any pleas, and certainly not a plea of this kind. And that he admitted to the killing has helped the family immensely, and helped, I suppose, his family too that they don't have to go through the whole torture of a trial."