Demolition work begins at Harryville protest church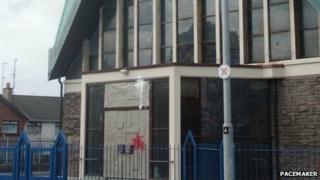 Work has begun to demolish a Catholic Church in Ballymena, County Antrim, that was the scene of loyalist protests for several years.
In July, Our Lady's in Harryville released a statement, saying the building had been unsafe "for some time".
Parish authorities took the decision because the cost of repair would be "prohibitive".
Demonstrations outside the church took place in the 1990s.
They began in 1996 and were in response to nationalist objections to an Orange Order parade in the nearby village of Dunloy.
The protests eventually came to an end after the Good Friday Agreement of 1998.
The building was taken out of use in February 2012.
The church had had problems with water getting into the building and these had never been "fully resolved".