Weather warning for Northern Ireland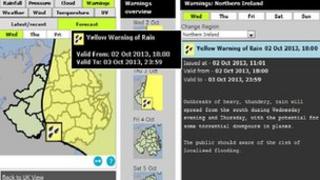 A yellow rain warning has been issued for Northern Ireland by the Met Office.
There may be 40-50 mm of rainfall in some places.
The rain will last into Thursday night across much of Northern Ireland, with accumulations of 20 to 30 mm likely.
Across the Sperrins, east Tyrone, east Fermanagh and especially across Antrim, Down and Armagh, the rain is likely to be fairly steady and occasionally heavy.
A yellow weather warning is issued by the Met Office to make the public aware of certain adverse weather conditions, in this case, the risk of flooding caused by prolonged downpours of rain.
A joint statement from NI Water, the Rivers Agency and the Roads Service said there is a "heightened risk of surface water flooding due to intense downpours".
The statement said the three agencies had made preparations to limit the impact of any flooding.
Parts of the west and northwest should avoid the worst of Thursday's rain.
A yellow weather warning, the least severe weather alert, has also been issued for Wales along with parts of England and Scotland.
'Flooding issues'
BBC meteorologist Angie Phillips said the persistence of the rain rather than its intensity was more likely to be cause of any problems.
"A lot of surface water will gather on the roads and visibility will be poor, and localised surface water flooding is a possibility, especially in parts of the east as the rain continues to fall," she said.
"At this time of year, leaves are starting to gather in the drains as well, and can prevent rainwater from draining away effectively, and that just adds to the flooding issues."
Drier conditions should follow into the west after Thursday midnight.
"It may be early Friday morning before the rain properly clears away from the east coast," she said.
"Then apart from a few showers, it is at least a drier outlook for Friday and the weekend. A little fresher then as we lose the warm moist air that the rain is feeding in on today, and the nights will become a little cooler too."
To report a flood, please phone the Flooding Incident Line on 0300 2000 100.