Lantern slides shine light on men of Great War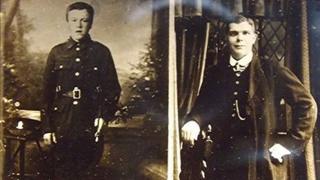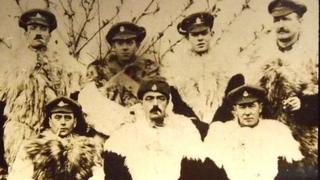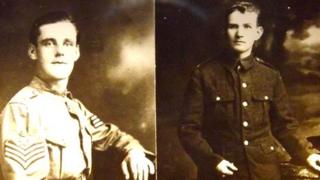 When Fay Rice opened a box of old lantern slides lying hidden in the organ loft of a north Belfast church, she unearthed a treasure trove of bitter sweet memories.
Under the dust and the cobwebs, more than 100 men stared back at her.
Who knows what their thoughts were as photographer Alex R Hogg had them stand to attention.
For some, these were the last portraits - scrubbed up and ready for action in the First World War.
In 1918, the committee minutes for Castleton Presbyterian Church - now Alexandra Church - state that Mr Hogg was asked to put together a lantern slide exhibition of "our men at the front".
It was to be shown on 16 December of that year - tickets were sent to the families of serving men.
They stare solemnly at the camera - some in their uniforms, some in civilian clothes.
"There are about 77 slides and the images of 137 men are captured there," said Fay.
"There photographs are very clear and very fresh looking. Some of the men in the pictures had obviously told lies to join up - one man was just 15 and you had to be 17 years old.
"There are very young men and older men as well."
Fay was moved by the portraits and by what happened to those men and their families.
"It is horrendous - for the ones who did not come home and the tragedy that was for their families and for those who came home and were seriously injured or affected by what they had seen. How could they live with that?"
But the slides did not carry the names of the soldiers pictured.
When Fay showed her daughter, Karen O'Rawe, she set up a website called: Castleton Lanterns... Shining a light on our men who served in the Great War.
So began the quest to name all of the Castleton men. To date, about 20 have been identified.
"Within a couple of days, 300 people were looking at the site and from that, interest has just mushroomed," said Fay.
People started contacting Fay and Karen to identify their relatives and tell their stories - men like James Magill, Ernest McCann and James McCann.
"The example of James Magill, Francis Ernest McCann and James McCann demonstrate just how closely connected all the Castleton Lanterns men were. They were brothers, best friends, pals and colleagues," said Karen.
"It's important to find their stories and tell them, to understand their lives and remember them, coming up to the anniversary of the start of the Great War. It is sad to hear the stories of those who were lost or wounded beside those who lived and flourished and I'm sure the families who gathered to watch the lantern slide show in 1918 must have felt something similar."
Interest has spread and people from as far away as Australia and Canada have been in touch.
Now Frankie Quinn, director of the Red Barn gallery in Belfast has stepped in to help in the quest to identify all of the men pictured in the lantern slides.
An exhibition of the slides opens on Thursday 3 October from 18:00 BST to 21:00 BST at the gallery at 43b Rosemary Street in the city.