Turkey murders: Son found guilty of Graham and Dinsmore murders, father is cleared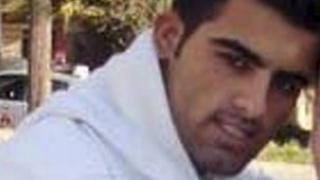 A man has been found guilty of murdering two women from Northern Ireland who were stabbed to death while on holiday in Turkey.
Marion Graham and Cathy Dinsmore were attacked and killed in August 2011. Their bodies were found in a wood on the outskirts of the city of Izmir.
Recep Cetin, 24, the ex-boyfriend of Ms Graham's teenage daughter Shannon, was sentenced to life imprisonment.
His father, Eyup Cetin, was acquitted of the murders by the court in Turkey.
'Barbaric crime'
Ms Graham was stabbed 17 times in the attack and Ms Dinsmore suffered 35 stab wounds.
Speaking outside the court, the relatives of the two women said they had got the justice they had been hoping for and could now get on with the rest of their lives.
Shannon Graham said the the murders had "ruined" her family and had torn them apart.
The teenager added she was "satisfied with the result" of the court case but said she missed her mother every day.
George Dinsmore, a brother of Cathy Dinsmore, said: "It's great to get a bit of relief and closure, so we can get on with our lives now."
He said he had been "numb" in the courtroom.
"I wasn't sure what was going to happen, but very, very relieved we've got a verdict and got closure. That's what we came for and we've got it."
Cathy's nephew, Robert Dinsmore, described it as a "barbaric crime".
'Good friends'
"I suppose today has brought closure for both the Graham family and ourselves," he added.
The two women, who were both in their early 50s, were good friends who had often gone on holiday together.
Ms Graham was from Newry city in County Down and Ms Dinsmore lived just a few miles away in the town of Warrenpoint.
They were both staying in Ms Graham's apartment in the Turkish resort of Kusadasi at the time of the murders.
Recep Cetin worked as a waiter in the area. He had been in a relationship with Shannon Graham since 2010.
While his teenage girlfriend was on a short cruise, he offered to take the two women on a shopping trip. During the journey he carried out the knife attack.
Recep Cetin was arrested and charged shortly after the bodies were found.
He admitted stabbing the victims but had denied murder.
Initially, he falsely claimed to be 17 years old in an effort to be tried in the juvenile court, where sentences are lighter.
'Psychiatrically ill'
However, the court ordered him to undergo bone tests, that established that he was in his early 20s and would be tried as an adult.
The trial was further delayed when Recep Cetin said he was psychiatrically ill. Further medical examinations showed that he was not.
Four judges heard the case in a court in Izmir but only three were involved in the verdict.
All three agreed that Recep Cetin was guilty. He may spend the rest of his life in jail but will not be considered for parole for 30 years.
But most of the judges thought there was not enough evidence to convict his father of the murders.
Eyup Cetin said he would sue for damages after being acquitted.