Marion Graham and Cathy Dinsmore murders: Trial to end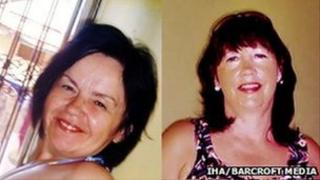 The trial of a father and son charged with murdering two Northern Ireland women in Turkey is due to end shortly.
Marion Graham and Cathy Dinsmore were stabbed to death in August 2011.
Recep Cetin and his father Eyup have been tried in a series of hearings held several weeks apart.
Recep Cetin, who is in his early 20s, admitted stabbing the victims, but Eyup Cetin insisted he was innocent. Relatives of the two women have arrived in court in Izmir for the verdict.
Marion Graham, from Newry, and Cathy Dinsmore, from Warrenpoint, County Down, were in their early 50s.
They were good friends and were staying together in the resort town of Kusadasi.
Their bodies were found in a wood on the outskirts of the city of Izmir.
At the time of the murders, Recep Cetin was the boyfriend of Marion Graham's teenage daughter Shannon. He was arrested and charged shortly after the women were killed.
Eyup Cetin was also charged with the murders, several months later.
Four judges have been hearing the case - there is no jury.
Initially, Recep Cetin falsely claimed to be 17-years-old in an effort to be tried in the juvenile court, where sentences are lighter.
The trial was further delayed when he said he was psychiatrically ill. Medical examinations showed that he was not.
Recep Cetin has backed up his father's claim of innocence. But a witness, whose identity was kept secret, said she had seen both men at the murder scene.
If convicted, the men face potential prison sentences of about 40 years.