Michelle O'Neill to challenge Ministry of Defence bill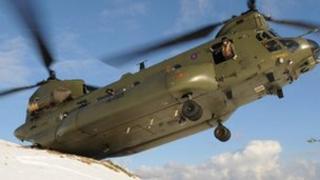 Agriculture Minister Michelle O'Neill has said she is to challenge a £640,000 bill from the Ministry of Defence for the use of rescue helicopters.
The helicopters were used to recover farm animals during the snow crisis last spring.
Minister O'Neill contrasted the bill with the approach of the Irish government.
She said the Irish government had not charged for the use of its air corps helicopters.
More than 44,000 farm animal carcasses were recovered in Northern Ireland after the snow crisis.
The vast majority of the casualties were lambs, cattle and goats.
Sinn Féin's Daithí McKay asked the minister whether she would consider only availing of services where charges were waived.
Minister O'Neill said: "Obviously cost would be a factor in what services we would deploy".