Eleven men in court over Dungannon arson attack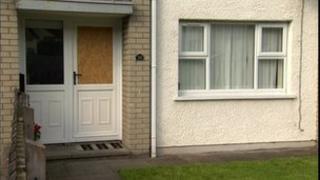 Eleven men have appeared in court charged with arson with intent to endanger life following a fire at a house in Dungannon, County Tyrone, on Friday night.
The men, all from Poland, also face two counts of aggravated burglary.
The charges are connected to an incident at a house in Springdale in the town on 27 September.
They are accused of going into the house armed with baseball bats, setting fire to it and endangering five men.
During a bail application for two of the accused, a police officer revealed that the men had travelled more than 100 miles to Dungannon.
He said there appeared to be an ongoing dispute between two groups in the Polish community.
The officer said there had been an earlier incident on Sunday 22 September and that he believed this was a reprisal attack.
The men were arrested by the police in Portadown, Newry and Lisburn.
A district judge refused bail on the grounds of the high risk of the men leaving Northern Ireland, committing further offences or intimidating witnesses.
All 11 were remanded in custody and will appear at Dungannon Court via video link on 23 October.
A 12th man who was arrested has been released pending a report to the Public Prosecution Service.