Closing statements in Liam Adams abuse trial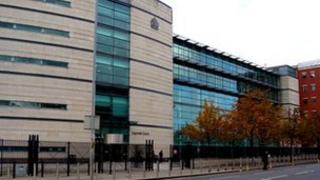 The trial of Liam Adams, the brother of former MP Gerry Adams, has been hearing closing statements from both the prosecution and defence.
Liam Adams, 58, from Bernagh Drive in Belfast, is accused of raping and abusing his daughter Áine Adams more than 30 years ago.
He is facing 10 charges, including rape and gross indecency.
Closing the case, a prosecution lawyer said the level of detail in Áine Adams' evidence was a hallmark of truth.
"I suggest it is king in this case," he said.
The lawyer said it was such that an ordinary member of the public who had not been abused could not have made it up.
He asked the jury "what possible reason would she have to lie?".
However, a defence barrister said it was a case of one person's word against another, that the jury did not have the benefit of physical evidence and questioned Áine Adams's truthfulness.
"Not once in his whole life has any other person made any allegation of impropriety against him," she said.
She said Mr Adams had worked for many years as a youth worker.
The jury is expected to retire to begin deliberations on Tuesday.