Cookstown stabbings: Man on 'feud' murder bid charge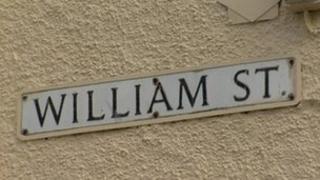 A man has been remanded in custody after being charged in connection with stabbings in Cookstown, County Tyrone.
Jason Spence, 23, of Lakeside Gardens, Dungannon was charged with attempted murder and grievous bodily harm with intent.
A police officer told a court he believed it was the result of a feud between two factions in Cookstown.
The accused said the two men who had been injured were part of a group he was trying to get out of a house.
Enniskillen Magistrates' Court heard that at about 02:30 BST on Saturday, a 20-year-old man, Timothy Price, was found bleeding heavily after being stabbed in the head in William Street.
A witness named the defendant and said he had drawn a knife from under his jumper.
An hour later, a police patrol was called to a fight in Milburn Street involving four men when they found a man in his 20s, Adrian Forsythe, nearby with multiple stab wounds to his head, neck and back.
The accused read a prepared statement to police that said he was visiting his father's house when a group of 12 men came in armed with knives.
He claimed he was involved in getting the men out of the property, and that the two men, who were injured, were part of the group.
The district judge said they were serious matters and that the use of knives was particularly worrying.
Mr Spence will appear by video link at Dungannon Magistrates' Court on 23 October.
Seven other men arrested over the incidents have been released on bail while the police investigation continues.