Bangor carer Lesley Boyd admits stealing over £100,000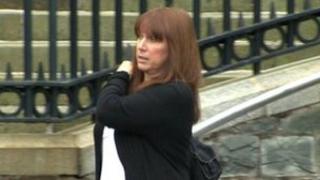 A woman has pleaded guilty to taking more than £100,000 from an elderly man she was caring for.
Lesley Dorothea Helen Boyd, 56, from Chippendale Avenue in Bangor, County Down, was charged with six counts of fraud at Downpatrick Crown Court.
The charges are in relation to the writing of six bank cheques from the account of Cecil McAllister that totalled more than £61,000.
The cheques were drawn in 2009 and 2010.
Boyd was also charged with the theft of £44,000 belonging to Mr McAllister.
Mr McAllister has since died.
His grand-nephew, Stephen Mullen, said Cecil - who was known by family and friends as Jock - was 91 when the fraud and theft began. It ended when he was 92, and he died at 93.
"I would really urge people who are following this story to sit down, as a family, with vulnerable family members and just have the discussion - 'could this happen?'" Mr Mullen said.
"I firmly believe that if it happened to Jock McAllister, in the way that it happened to him, it could happen to anybody.
"I just feel sorry that she (Lesley Boyd) put herself in the position that she did, and ultimately she had to face up to it and accept the consequences of her actions."
Boyd will appear again in court for sentencing on 13 December.